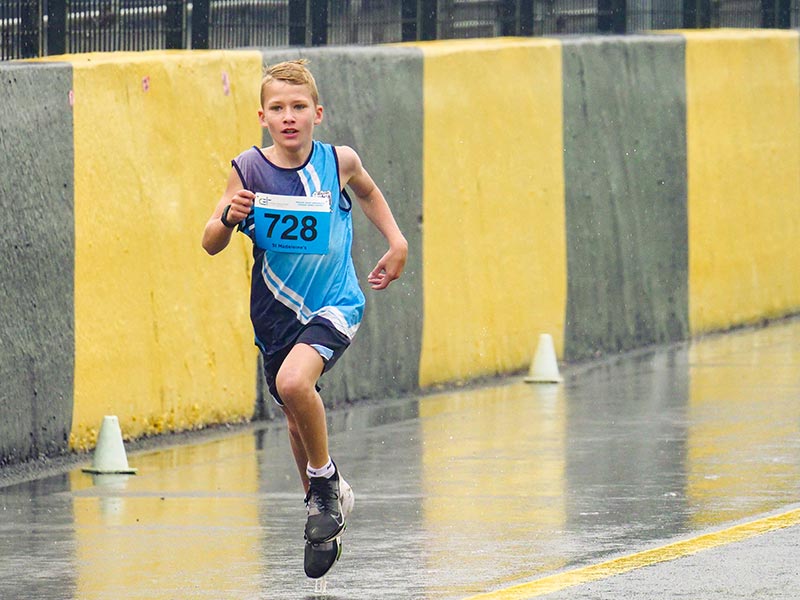 Catholic Education Diocese of Parramatta students have produced some impressive performances at the Catholic Schools NSW Cross Country Championships at Eastern Creek with St Madeleine's Primary, Kenthurst student Lachlan Dorahy the standout, winning the 10 boys MacKillop race.
Lachlan, who comfortably won the Parramatta Diocese Cross Country Championships in April, won a thrilling sprint to the line to claim top spot on the podium ahead of more than 50 competitors from Catholic schools around NSW.
Lachlan joined a number of CEDP students in qualifying for the NSWPSSA Cross Country Championships (primary) and NSW All Schools Cross Country Championships (secondary).
Emelia Muccino from St Michael's Primary Baulkham Hills came an impressive 3rd in the 11 Girls while in the secondary schools competition Kim Tran from Penola Catholic College Emu Plains was 3rd in the 12 boys.
Congratulations also to those who did well in the multi class events including Matthew Engesser from Gilroy Catholic College (1st - 14-15 Boys), Layla Sharp from Emmaus College Kemps Creek (1st - 14-15 Girls) and Charlize Tran from St John Paul II Catholic College, Schofields (1st - 15-16 Girls)
Listed below are all the CEDP students who finished in the top 10 in their age category.
Primary students (only top six qualify for NSWPSSA Cross Country Championships)
Q = Qualified for the next stage..
Primary
U8/9 Girls
Q - Tahlia Chapman - 5th
(Chisholm - Bligh Park)


Chloe Harkin - 8th
(St Michael's - Baulkham Hills)
U8/9 Boys
Levi Pignat - 7th
(Holy Spirit - St Clair)
U10 Boys
Q - Lachlan Dorahy - 1st
(St Madeleine's - Kenthurst)


Cooper Falzon - 8th
(Corpus Christi - Cranebrook)


Cailum Saab - 9th
(Our Lady Of Lourdes - Baulkham Hills)
U11 Girls
Q - Emelia Muccino 3rd
(St Michael's - Baulkham Hills)


Q - Ava Lorking 6th
(St Finbar's - Glenbrook)


Student 11 8th
(St Angela's - Castle Hill)


Paige Ludvik 9th
(Our Lady Of The Rosary - Kellyville)


Mackenzie McBain 10th
(Christ The King - North Rocks)
U11 Boys
Thomas O'Keefe - 7th
(Our Lady Of Lourdes - Baulkham Hills)
U12/13 Girls
Ellie Taylor - 10th
(St Finbar's - Glenbrook)
Secondary
12 Girls
Q - Molly Mills 6th
(Santa Sophia Catholic College - Schofields)


Q - Amelia Wood 9th
(Caroline Chisholm College - Glenmore Park)
12 Boys
Q - Kim Tran 3rd
(Penola Catholic College - Emu Plains)
18 Boys
Q - Blake Jones 8th
(St Columba's - Springwood)
17 Girls
Q - Torrance McLean 8th
(Penola Catholic College - Emu Plains)
18 Girls
Q - Tayla Gallen 7th
(Caroline Chisholm College - Glenmore Park)
Multi Class
8/9 Boys
James Tarr 3rd
(St Luke's, Marsden Park)
10 Boys
Q - Ethan Odell 2nd
(OLOR, Kellyville)


Nicholas Achi 4th
(Holy Family, Granville East)
11 Boys
Q - Edward Lennon 2nd
(Our Lady of the Way, Emu Plains)
12-14 Girls
Q - Layla Sharp 1st
(Emmaus Catholic College)
12-14 Boys
Q - Matthew Engesser 1st
(Gilroy Catholic College)
15-16 Girls
Q - Charlize Tran 1st
(St John Paul II Catholic College, Schofields)
15-16 Boys
Cody Sneesby 5th
(Bede Polding College)
Photos attached to this story are from April's Parramatta Diocese Cross Country Championships